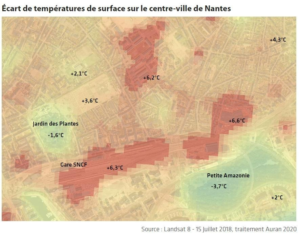 TerraCool 3D-printed raw earth structures to prevent Urban Heat-island Effect
Nantes Métropole intends to create more than a hundred spots to reduce the urban heat-island effect. The TerraCool project aims to create and to 3D print earth structures to cool down neighborhoods in Nantes urban areas.
The project will allow to experiment the cooling effect of these structures in an urban context as well as the appropriation of its use by the residents.
The build may be designed with a « double-sided wall » offering a « cultivable » part (exposed to the sun) and a "shaded" part where people can shelter when the temperature is too high. The students will explore the 3D printing techniques and possibilities: earth composition, shapes, shade structures, water flow patterns, structure and street furniture design.
The project, which will run until mid-February 2023, is developed within the Design Factory pedagogical module of the Ouest Industries Créatives Programme under the supervision of Toinon Vigier.
The 3D printing process is under the supervision of Paquet Elodie and Benoit FURET, members of the Isite NExT MAD4AM Research Cluster.
More information:
https://polytech.univ-nantes.fr/fr/les-formations/formation-continue/du-design-factory
https://www.ouestindustriescreatives.fr/formation-innovante/challenges-expe-design-factory/design-factory-nantes/