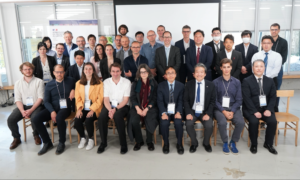 The event was an opportunity to present the international Franco-Japanese networks "ElyTMax" and "ElyT Global", as well as a number of research laboratories working in the field of additive manufacturing, including LS2N.
Two half days were dedicated to the topics of processes and materials. Élodie Paquet presented the paper "Robots and large-scale additive manufacturing process" and Antoine Le Duigou the paper "Biomimicry and 4D printing for innovative composites".
Kazuaki Inaba of Tokyo Tech and Alain Bernard, Vice President of France Additive and member of the MAD4AM cluster, closed the event.
More information (en French): https://jp.ambafrance.org/Compte-rendu-de-la-deuxieme-edition-de-la-conference-franco-japonaise-sur-la-fabrication-additive