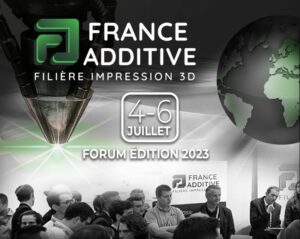 The France Additive Forum offers conferences on the main current advances and the outlook for technologies and their applications. The Forum also offers thematic workshops on topics related to the integration and implementation of the additive manufacturing value chain.
The Mad4AM network has organized two sessions focusing on additive manufacturing for the construction and agri-food sectors.
The "Large-Scale 3D Printing for Construction Application" session was chaired by Élodie Paquet, assisted by Benoît Furet and Nordine Leklou. The session was divided in two parts:
A. Robotic applications for additive manufacturing of large parts (Ali El Hage, Segula, NU; Maxime Limousin, G-SCOP; Malo Chaumin, ERB Construction).
B. Materials and processes for 3D printing in construction (Yameng Ji, NU; Fabrice Decroix, Sika; Abdelhak Kaci, Cergy Paris Université; Mamadou Barry, IRDL, UBS).
The session "3D printing for the food industry" was coordinated by Raphaël Poryles and Alain Le Bail. With the participation of Marine Core Baillais and Quentin Ponchon (La Pâtisserie Numérique).
More information: https://www.franceadditive.tech/page/1559673-accueil